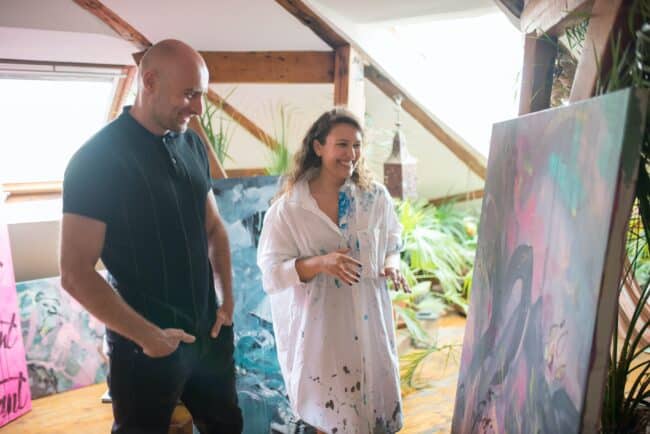 Oh, the joy of finding a piece of artwork you absolutely LOVE!

It's perfect…except that it's the wrong size to fit in your space, the background color clashes with your wall color, and you have a Golden Retriever, but the picture features a Labrador. If you love the artist's work but want something specifically designed for you and your space,  it might be time to contact the artist to request a commissioned piece. Collectors treasure these unique original artworks, and incredible bonds can form between artists and art lovers during the process.   
So, where do you begin?
The Artist:

Select an artist with a style and subject matter in which you are interested. For example, an artist who does abstract landscapes may not be the best choice for a realistic portrait of your dog. Scroll through the artist's online sites to get a sense of their style and what you love about their art. Share it with the artist so they can take it  into consideration.

The Details: Be thoughtful about what is most important to you. Think about where you will put the art, measure your space carefully and take note of any design elements that may compete with or complement your piece.  Bold teal walls?  Cool!  Desperately want your portrait to include your mother's pearls?  Sweet!  Have an absolute aversion to triangles?  Hmmm…well, you get the point…communication is key!
Pricing:  BEFORE contacting the artist, research their work to get a sense of their pricing.  Expect commissions to cost significantly more, as custom pieces typically require more time from artists. Know your budget. If they've posted work that is above your price range, they may be willing to create a smaller piece.   Most artists will require a 50% non-refundable deposit. Or, If you have very specific requests  about what goes into the work or how it should look, artists may require the total payment upfront (non-refundable ) or decline taking the commission altogether.
Contacting the Artist: Check their website. Artists often state whether or not they take commissions. Many book commissions months to even years in advance, so reach out as early as possible.
Once you've found the perfect artist to create your piece, follow these tips to help the process go smoothly.
Discuss and agree upon the general concept, price, and timeline for completion. Agree on how often you should expect to hear project updates (sketches, sneak peeks, etc.) during the process and when/if you are able to request changes.  Spell out these details in a written agreement that outlines clear expectations on both sides.
Share the most important concepts for the piece, but let go of any preconceived notions about how the art will look in the end. Allow the artist to create. The fewer specific client demands, the more authentic the piece will be, resulting in the style that drew you to him/her in the first place.   
Enjoy the unveiling process and display your piece with pride. There is something incredibly special about owning artwork that reflects something you love, created in partnership with an artist you admire.  So, take a deep breath and smile, knowing that you inspired an incredible piece of work that wouldn't have existed without your teamwork.
Celebrate your unique and treasured work of art!
Subscribe for Artburst Updates