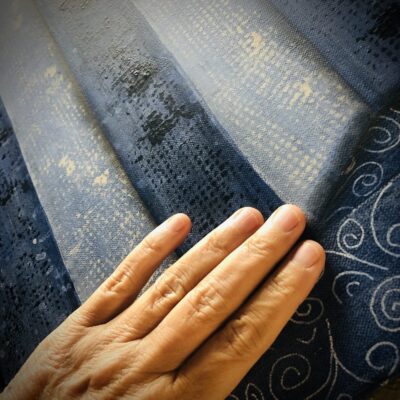 Every morning when I wake up, I step into my home studio and slowly walk around looking at the painting on my easel and those hanging on the wall.
They are all in progress, some fairly new and some I've been working on for months. I run my fingers over the painted surfaces, taking a fresh look and noting my favorite parts and areas that need more attention. It gives me an opportunity to consider what I'll be working on today. Then, I head downstairs.
It's time for coffee, (with lots of creamer) and breakfast. The news is always on in the background as I check my email and social media. I can easily lose hours online, so I tell Siri to set an alarm so I can stay on track. The day stretches ahead with a trip to the dog park and a few errands, but mostly, time to paint.
Once the alarm goes off, I head upstairs, turn on some music, and get to work. And most days, it is work. For me, the "muse" doesn't just carry me away. I've discovered I need to be in the studio for at least an hour or two every day of the week for the creativity to flow.
Some days, I don't accomplish anything more than just getting in there and playing with paint. Other days, everything I touch moves forward in amazing ways. Still, just being in my studio sets the stage for possibilities. Little by little, they all come to life…some taking days, others months and a few, even years. There is a real sense of accomplishment and joy with every breakthrough.
The day usually ends the way it began, with one last look at my creations before I head off to bed with a good book. Then it's lights out, giving myself time to recover before I begin a new creative day.