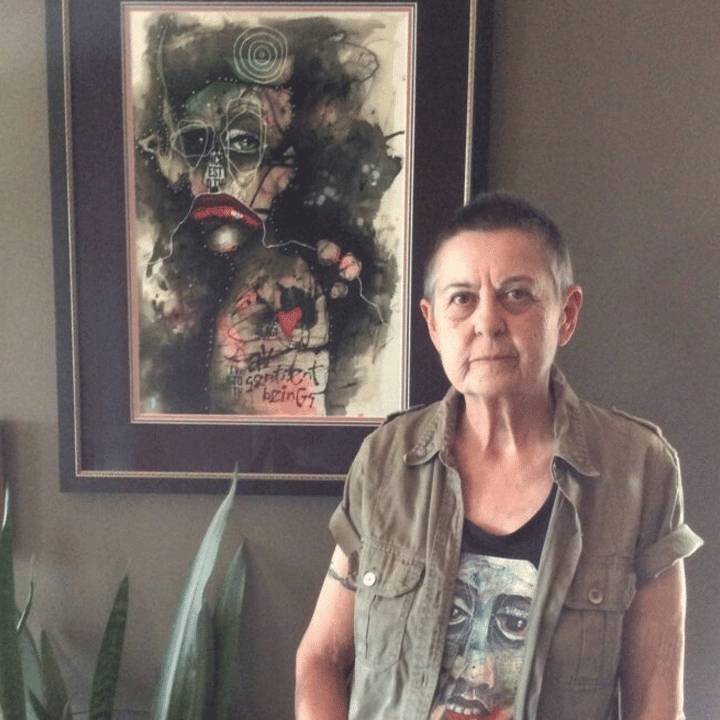 Deb Weiers
RED DEER, ALBERTA, CANADA
JOINED: September, 2022
"I am inspired by the strength of our ancestors and by the resilience of the human spirit. My art often portrays emotion and reflects struggle, hardship, or humor."
I am a mixed media artist living on a farm in central Alberta, Canada. I have played with different art mediums all of my life just for the pure joy of it. About seven years ago I committed to a daily art practice, first through art journaling, then through works on paper. After putting in hundreds of hours , I am now a full-time working artist. I have lived a 'colorful' life and have so much compassion for the underdog, the addict, the homeless, as well as for all sentient beings on this planet. I am inspired by the strength of our ancestors and by the resilience of the human spirit. My art often portrays emotion and reflects struggle, hardship, or humor. I work very intuitively and never know what is going to present itself to me on the paper.
Examples of My Work
Travel

I traveled alone to the interior of Brazil (a small town called Redencao). From there I boarded a tiny plane and flew in to a Kayapo Indian village where I got on a motorized boat to go upriver to the David Suzuki Research Station. There I joined two Brazilian and one Canadian scientists and spent 10 days in the jungle. It was the trip of a lifetime.
Drink

I believe red wine with dinner is the elixir of life.
Hermit

You have to drag me off the farm, I am quite content to be at home 100% of the time.
Food

French fries are still my all time favorite food although these days they are baked at home in the oven.
Award

 I won the hula-hoop contest at our family reunion, having not used a hula-hoop in over 45 years!
How do you get over creative blocks?
I get over creative blocks by simply making marks on a page, or splashing some ink on, and then scribbling into it. I think it is the motion of my hand and the disappearance of the blank page that sparks an idea or allows me to 'see' something in the marks and colored shapes on the paper.
How do you come up with titles for your pieces?
I have a lot of fun coming up with titles for my pieces because I love words almost as much as visuals. And I love word play. For me the title often 'presents itself' as I am working on a piece and almost always before I finish it.
What other non-artist jobs have you had?
I have worked at almost every minimum wage job. These include bottle depot, barmaid, waitress, gas station attendant, convenience store clerk, insurance clerk, bulk newspaper delivery, clerk typist, laying sod, and probably some I don't remember because they were so long ago. Today I am happy to be a working artist!!