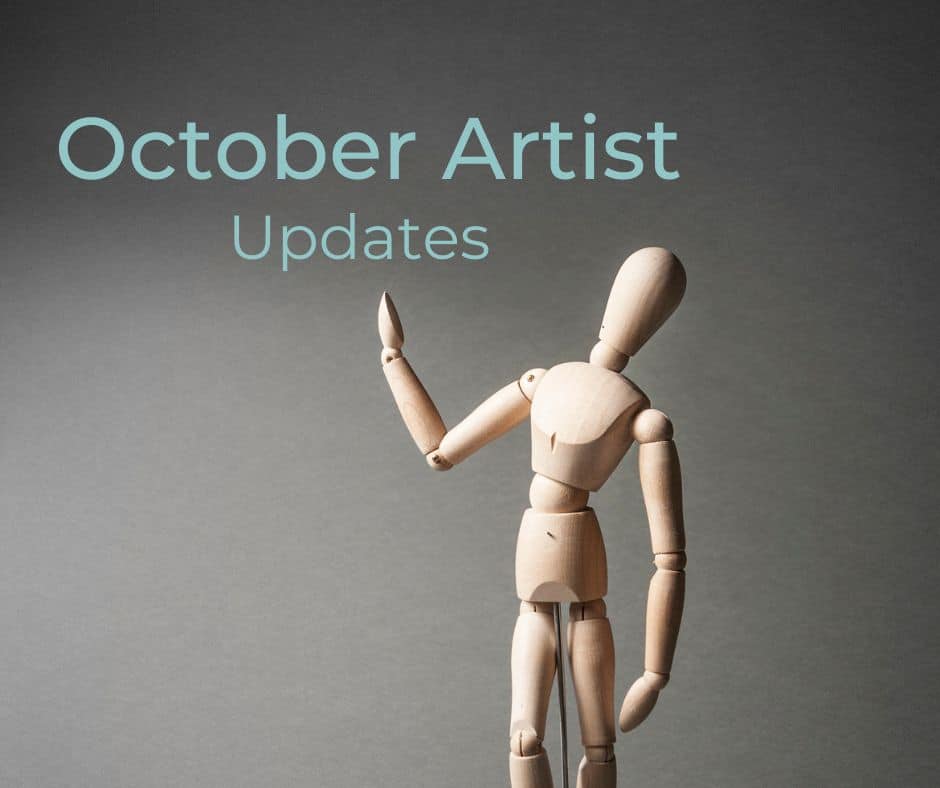 Here are the upcoming dates and deadlines for October and other important information…
The website launch date will be announced in late October. While the website is currently available for surfing and subscribers, the formal launch releases Collector+ memberships for sale. The inaugural annual membership price will be $44.00 and the membership term will last from date of purchase through December 31, 2023. There will be a limited number of memberships available, based on the number of artist gifts to be included in the Collector+ gift kits.
Top Collector Free Collector+ Memberships- We will provide everyone information on how to gift your top five collectors with a free Collector+ membership prior to the launch.
October 23rd 9:00am MST- Inspired to Create Artist Chat- Introducing Artburst Studios. Please invite your followers to join us. We will be sharing the story of Artburst Studios and the artists who will be featured in the February show. If you can make it, please register and plan to be on the call fifteen minutes early. We'll have each artist briefly introduce themselves, a bit about your art and what you love most about Artburst Studios so far and why art lovers should be excited to attend the upcoming show. The Zoom invitation will be sent out the night before. Let us know if you have any questions.
Here's the link to share so people can to register: https://www.jennifersteck.com/inspired-to-create-introducing-artburst-studios/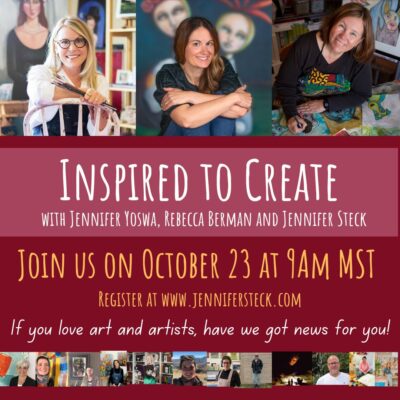 October 31st- Please upload 2-3 suggested marketing tidbits to the "Upload Marketing" folder on your Artist Dashboard. Here's a link to the October Marketing Guide for some suggested options. October Marketing Guide Artburst Artists (10622) (8.5×11)
Pass the Brush – Example – Rebecca and her daughter Lily, recorded a sample "Pass the Brush" video. We'd love to have everyone upload some bits we can use to create a similar video. Check out the October Artist Zoom video on the Artist resource page for more information. Rebecca did a great job explaining how to record the steps on your phone. Here's a link to the step by step instructions. Pass the Brush Marketing Mash
Within two weeks of onboarding-  Mail 100 pieces of your marketing collateral (postcards, stickers, etc.) for Collector+ gift bags. More information is in the Artist FAQs or you can ask questions in the FB Group. Pieces can all be the same, since they'll go in different packages, but we suggest they not be a duplicate of what you are already sending as collector gifts or what you plan to send to collectors purchasing in the February show. Please let Jennifer S. know when you've mailed your package so she can be on the lookout. 
Mail to: Jennifer Steck
15 S. Tamarac Street
Denver, CO 80230
USA
jennifer@artburststudios.com
Subscribe for Artburst Updates